It's been a few months since I've contributed to The Sunday Currently. I've decided to give it another shot.
---
Reading: I've currently got two books on the go. Check out my books page to keep up to date with what I've read so far this year! Last year, during the first lockdown here in Ireland, I found it really difficult to focus on reading. This was very unusual for me as I would usually read 60+ books a year. I've yet to pick up the pace, and with everything going on at the moment, I'm not putting any pressure on myself to do so. I just want to make sure that I'm enjoying what I'm reading and not forcing myself to read when I'm not in the mood for it.

1. A Year of Living Simply by Kate Humble
Reading on: Kindle
This book is a really lovely, relaxing read. I love Kate's anecdotes about her journey to finding the simple things in life that are the key to happiness. It's making me reflect on what matters in life – community, mindfulness, self-sufficiency etc.

2. A Promised Land by Barack Obama
Reading on: Audible
I read Michelle Obama's book and loved it. I thought I'd try to delve into her husband's version of his presidency. It's good, and I love that he is narrating the book himself, but by good is it long and detailed! I usually listen to my audiobooks when I am driving to work or out for my long walks. Seeing as I am working from home, and am on strict rest orders from the doctors, I'm not getting to listen to it too much.
Listening: I've been listening to The Tommy and Hector Podcast with Laurita Blewitt. It is side-splitting stuff. For anyone not from Ireland, Tommy Tiernan is comedian who I absolutely adore. He went to school with Hector Ó hEochagáin who is now a TV and Radio presenter. They record their podcast with their friend Laurita Blewitt, cousin of newly elected US President Joe Biden, in a shed at the bottom of Tommy's garden. If you're looking for a podcast that does not hold back and has you drinking your tears with laughter, then check this one out. It is hilarious and I am loving it!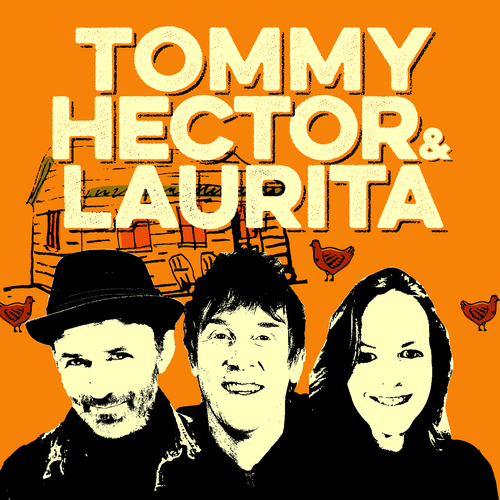 Summary and Image source from play.acast: Pure conversation, of the language loving storytelling variety. Unpredictable and funny, carefree and intimate. Join Tommy Tiernan, his school pal Hector O'hEeochagain and Mayo woman Laurita Blewitt as they sit around the table in a shed at the bottom of a garden in the West of Ireland and just chat.
You can find The Tommy and Hector podcast wherever you get your podcasts.
Watching: I've been watching Schitt's Creek on Netflix. I'm aware I'm very late to the party but I've only just gotten into it. I'm absolutely loving Catherine O' Hara and Dan Levy in this. They are brilliant. It took me a while to get into this show as I didn't really 'get it' for a while. But I'm onto Season 3 and am really enjoying it now. It's easy watching, good comedy, and highlights the point that it is our relationships and communities that matter more than anything in life.
Loving:
~ Feeling my baby kicking and moving around
~ The light dusting of snow that fell last night
~ Seeing robins and goldfinches in our garden
~ Having friends and family that are supporting me when I'm finding it difficult to cope
~ Reading A Year of Living Simply by Kate Humble
~ Mandatory baths for pelvic girdle pain
~ Quiet cups of tea in the mornings
~ Having less stressful working days now that I'm working from home
~ Distancing myself from the constant teacher bashing in the media and online – self preservation!
~ The sun shining in through the window this morning, and my dog basking in it's heat

Working On: Self Care. Plain and simple that's my main focus at the moment. I'm trying to be more mindful and show more self-compassion. I'm aware that things are tough, and that it's ok for me to be feeling that way. I'm just trying to allow myself to feel what I'm feeling and not judge myself too harshly for the times when I'm not feeling great.

Self care for me currently involves:
– Following doctors orders and doing as I've been told to alleviate pain
– A warm bath with scented candles and my kindle every few nights
– A face mask once a week
– Short walks without any headphones/music/distractions so that I can be in the moment and enjoy the fresh air
– Reading
– Going to bed early
– Not over extending myself at work
– Staying away from the media
– Staying in bed for a little longer in the mornings if I need to and not feeling guilty about it
– Talking things through with my friends when I need to
---
Until the next installment,
Happy Sunday loves!
C x